Shopping Cart
Your Cart is Empty
There was an error with PayPal
Click here to try again
Thank you for your business!
You should be receiving an order confirmation from Paypal shortly.
Exit Shopping Cart
Dear Customers,
       With round 4 now in the books it is time to focus on the lawn renovations and monitor for insect damage. Elite Turf Care offers Core aeration(one way and two way), Over seeding, Slice seeding, Top dressing, De-thatching as well as many other ways to improve your lawn.
                   Benefits of our lawn renovation services:
Core Aeration
Loosens up the compacted soil
Increase the availability of water and nutrients
Reduces water run off
Improve fertilizer uptake
Improves the overall health o the lawn
Over Seeding
Makes your lawn thicker
Improves Color
Can provide resistance to drought and disease
De-thatching
Remove dead grass
Encourage new root growth, too much thatch can suffocate healthy grass
Top Dressing
Adds a thin layer of loam in areas of sandy and or rocky soil, that will allow better grass germination in areas of severe damage
Lime with Core Aeration/Over seeding
Encourages greater results with seed germination
Raises Ph level in soil
Helps develop a lush thick lawn that can handle the winter weather
Helps lawn absorb nutrients and fertilizer
If you are interested in receiving a free quote for a lawn renovation please contact us at 978 537 4912 or
[email protected]
We are offering 50% off a fall lime application if you book a lawn renovation by September 15th, 2013.
Dear Customers,
With Rounds 1 and 2 just about in the books it is now time for the round 3 grub control applications to begin. Our round 3 applications for our NON ORGANIC customers, consist of Granular Merit Grub Control(24-0-8). It is very important for this product to water in within 48 hours of being applied to your lawn and all round 3's will be completed by July 15th, to give your lawn the best possible results in avoiding grub issues in the future. If this product is not watered in, we cannot guarantee the results.
It is very important that the grub control application is completed in a specific time frame. Grubs are the larvae stage of the Japanese beetle and in August or early September depending on weather, the female Japanese beetle will fly down and lays her eggs in your lawn. The most desired location for a Japanese Beetles to lay their eggs is any sunny and hilled area of your lawn. You can prevent grubs during the season with proper watering throughout and preventative treatments.
(Grub Damage)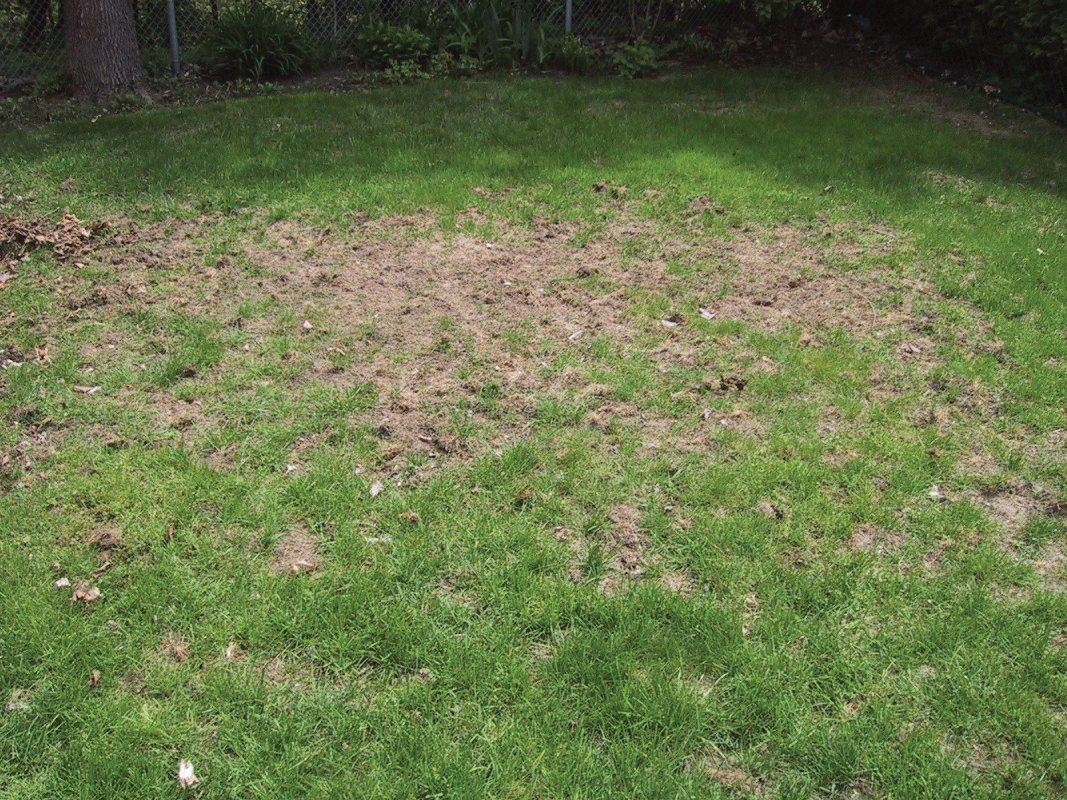 Elite Turf Care is also offering new customers 10% off grub control treatments now until July 10th, 2013.(Make sure you mention you saw this deal on our blog)
Thanks
Elite Turf Care
978 537 4912
Welcome to our blog!
Our blog was created for customers to receive tips, information and recommendations to improve their lawn and property.
With the record amount of snow we've received this winter you can expect one thing in the spring: snow mold. Snow mold is a fungus that appears on your lawn after long periods of snow exposure. There are 2 different types of snow mold, pink and grey. Pink snow mold causes dead spots near the melting snow, with a pink outer ring. This is sometimes confused with red thread. Grey snow mold also causes dead spots near melting snow, but has more of a grey and brown color to it, sometimes mistaken for insect damage.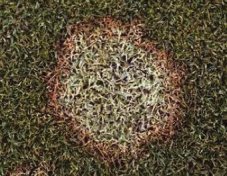 On the left is a picture of pink
snow mold which has the pinkish outer ring. The grey
snow mold is on the right, and has the grey and brown color.
Solution: Getting your last mow in the fall is very important as longer grass is more susceptible to this fungus. Removing all debris off of the lawn for the winter season such as leaves and sticks is also vital, that is why it is important to get that fall clean up done. Avoid piling the snow from the driveways and walkways on the lawn if possible. The best option to rid your lawn of this fungus is a fungicide curative application. In some cases, depending on the severity of the snow mold, it may need more then one application. Not treating this fungus can do serious harm to your  grass such as: discoloration, soil compaction, and healthy grass suffocation creating bare spots.
/